About us
  " Brief  History of  D.P.Vipra Law College  Bilaspur ( C.G.) The D.P.Vipra Law College Bilaspur (C.G.) was established in 1989 as a Department of Law D.P.Vipra P.G.College old High Court Road Bilaspur (C.G.) having only 89 students enrolled in LL.B.Part -I- (Three years law degree course) and its first batch of law graduate came out during June –July 1992 and one Mr.Vinay Kumar Mishra brought laurel for the college  achieving first position ...
Download Admit Card
Admit Card can be downloaded from http://www.bilaspuruniversity.ac.in/timetable.php
Resources
The College has a well equipped infrastructure with recent technology adopted in teaching, administration and to keep effective track of the students in their performance. The college has efficient and qualified faculty members specialized in various fields and with academic excellence. Our institution is well equipped with the recent books, commentaries, journals, periodicals, encyclopedia, newspapers and online resources which help the students to get well acquainted with subjects and current affairs.
From the Principal's Desk
I welcome the budding advocates to the family of DP VIPRA LAW COLLEGE. The D.P.Vipra Law College Bilaspur (C.G.) was established in 1989 as a Department of Law D.P.Vipra P.G.College old High Court Road Bilaspur (C.G.) .Legal profession is a noble profession, uplifting the downtrodden sections and serving the society which is the need of the hour. Character building is our main motto, this helps students to become responsible citizens of the country. Our College encourages the overall development of students who can excel in all fields and become good legal professionals...Dr. A.B. Soni, M.Com, LLM, Ph.D. – Principal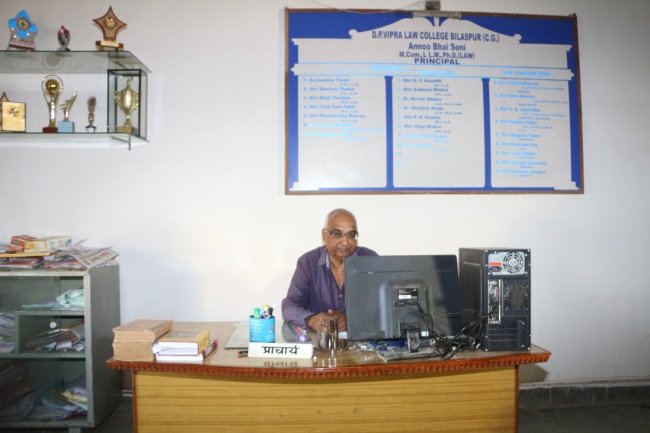 Gallery
DP Vipra Law college
Courses Available in the College
1. B.A.LL.B. ( Five Years Integrated Course) 2.LL.B. ( Three Years -Semester System) 3.LL.M. ( Two Years- Semester System) 4.P.G. Diploma in Labour Law ( One Year ) 5.P.G. Diploma in Administrative Law ( One Year )
Latest News
June 17, 2018
Guidelines for Online Exam Form